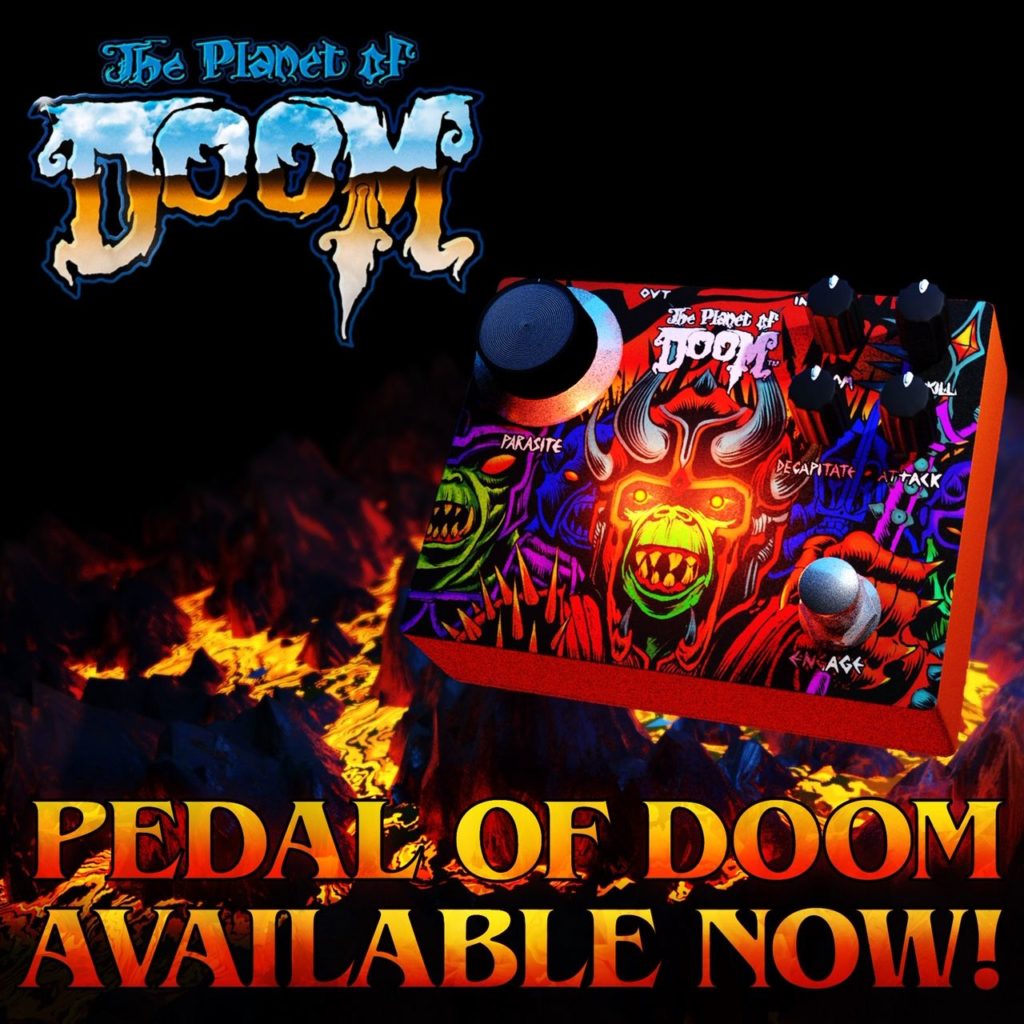 Introducing "the unholiest piece of gear to grace your pedalboard" – the official Planet of Doom guitar pedal has landed!
The doom-laden upcoming animated classic, The Planet of Doom, has spawned it's first-ever guitar pedal: a distortion and fuzz combo built to blow 'em away with its sonic mayhem and precision controls.
Celebrating the unholy matrimony of art and metal, the limited-edition It's Electric! pedal is a must-have for all lovers of unique, high-end collectible gear. The first demo is available now exclusively at http://www.theplanetofdoom.com/
"The sound of The Pedal of Doom is ultra-heavy music, the revving of motorcycles and your sword slashing through flesh," says It's Electric!. "We boxed these up and made this insane pedal so anyone can wield its power."
The pedal is a ripping fuzz at heart, with a unique control labeled Parasite that lets you change the character of your tone all the way to a raw, high-voltage distortion. The versatility of the settings (including outrageous controls Overkill, Attack, and Decapitate) let you tweak your tone up to a sputtery, glitchy tone, "like an orc choking on its own blood," adds It's Electric!.
Custom-built by an award-winning boutique pedal crew, It's Electric, who previously built pedals for Motley Crue, Misfits, and Gary Holt of Slayer, each pedal of the limited edition is made in the EU. Rest assured that this is studio-grade gear that will cast fear in the hearts of your enemies for many years to come. The eye-popping art on the pedal was created by Pedal of Doom's psychedelic art freak, Skinner.
The stoner animation, The Planet of Doom, has tapped some of today's heaviest bands and the trippiest artists to create their respective chapters, with new crushing fantasies of motorcycles, drugs, and sorcery.
---
The proceeds from the sale of the limited-edition pedal will contribute to the making of this future animated classic.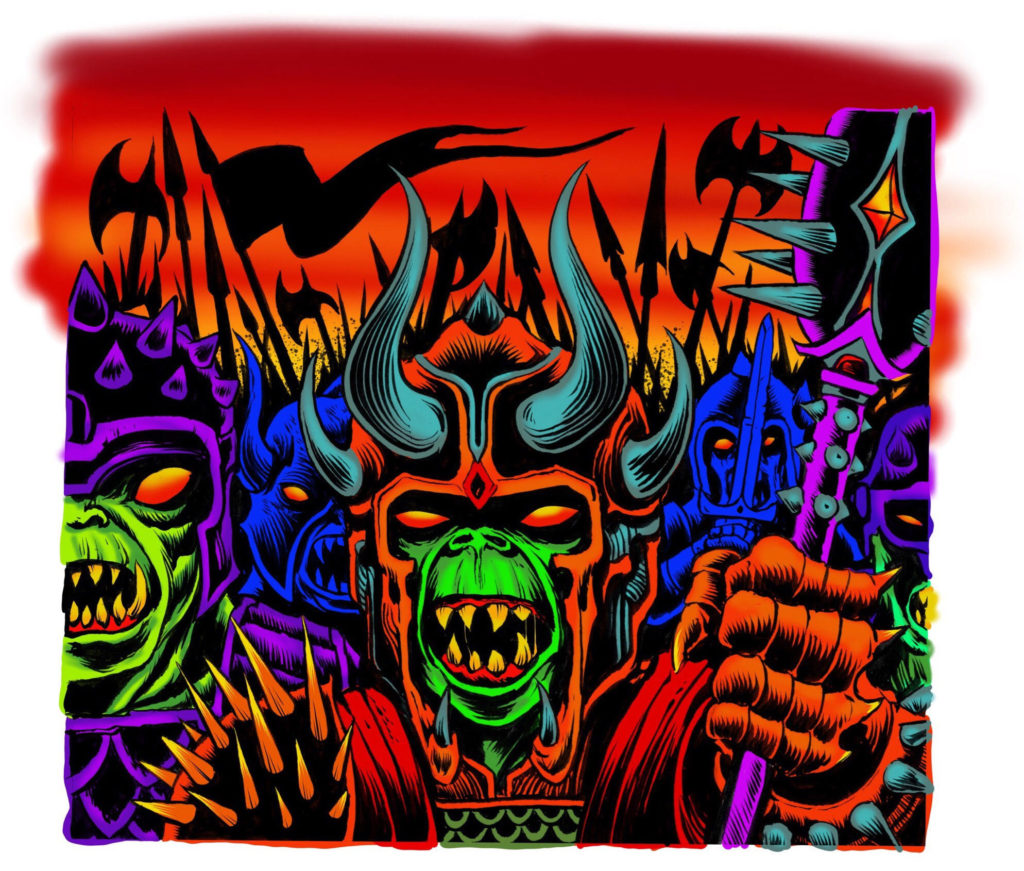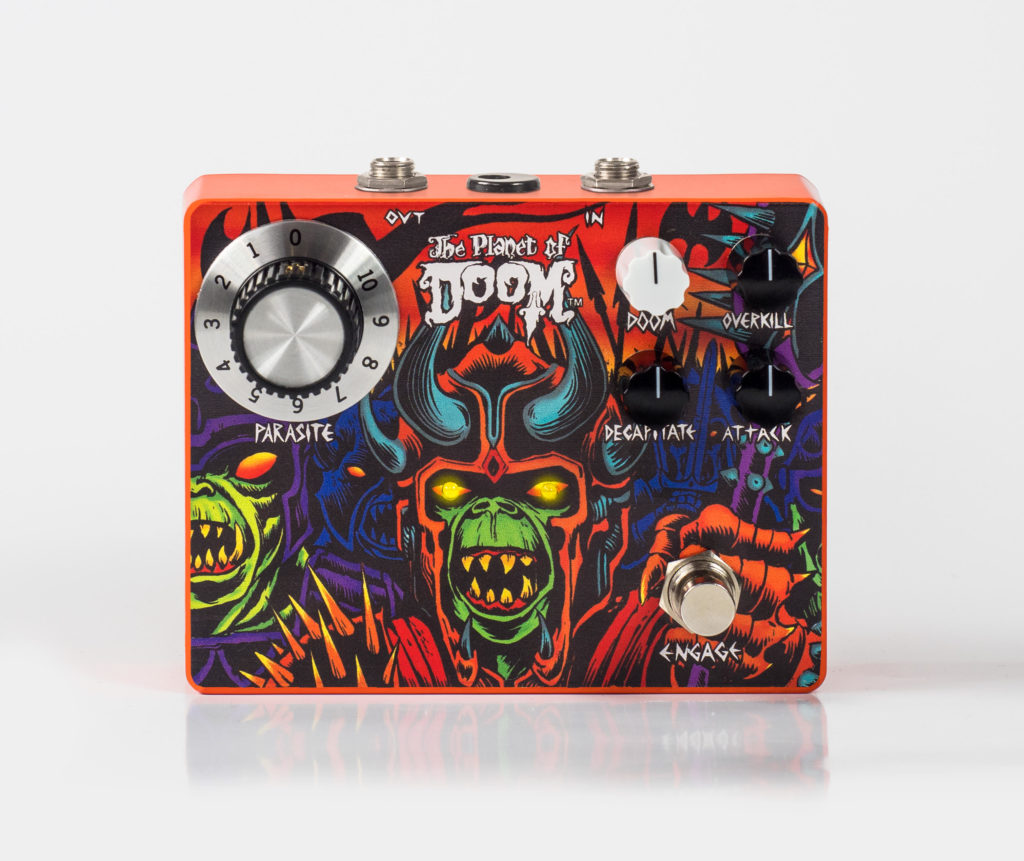 CONTROLS
OVERKILL sets the volume of your output. The maximum setting is insanely loud. Seriously. We're not liable for any structural damage to your house.
DOOM controls the amount of gain and saturation. It is placed before gain stages so higher settings provide more sustain, more saturation and a doomier tone.
DECAPITATE is a low-pass filter that cuts your highs. This control helps you optimize the output for different amps and achieve a fully balanced wall-of-doom sound.
ATTACK is a high pass filter, placed before the gain stages. It is designed and tuned to control the tightness of your bass response. A lower settings with less bass results in a faster attack and a higher tone definition. A higher settings pushes the lower frequencies and results in a liquid tone with a fuzzy low-end and a longer sustain.
PARASITE is your secret weapon, your tooth-edge sword that changes the character of the pedal by controlling its voltage. A lower setting provides a gated, velcro-like fuzzy tone. Higher settings bring you closer to distortion kingdom with a thick, dirty, raw tone. Parasite affects your Doom settings (and vice-versa). An extreme Parasite settings gives you a uniquely sputtery, gated, glitchy tone – like an orc choking on its own blood.
---
Engage The Planet of Doom pedal the same way you treat an orc skulls: stomp on it! Once the LEDs eyes are illuminated, brace yourself: this beast is louder than a chopper ripping through an army of pure terror. Adjust your pedal volume to match your amp, your desired boost level, or the amount of blood you want gushing from the ears of your enemies. Be warned: this pedal takes no prisoners!
Technical specs
The bypass mode is True Bypass.
---
About the upcoming movie
In the spirit of animated films like Heavy Metal and Fantastic Planet comes an epic feature-length fantasy/sci-fi film, The Planet of Doom, created entirely by artists and bands within the doom/stoner/psych metal genres.
The Planet of Doom is an animated film in which our hero, Halvar, seeks vengeance aboard a witch-born chopper, journeying across a psychedelic landscape on an epic quest to defeat the deadly beast Mordvel for the slaying of his bride.
The Planet of Doom contains no spoken dialogue, opting instead to tell the tale of revenge through the lyrics of the film's original music. The story unfolds across fifteen chapters, with each chapter being interpreted by a different artist/band team-up.
Bands
Cirith Ungol, Wo Fat, Ufomammut, Mos Generator, Slomatics, Elephant Tree, Vokonis, Messa, Destroyer of Light, Phillip Cope, Slow Season, Summoner, Mother Crone, Space Witch, and Tim Granda.
Artists
David Paul Seymour, Skinner, Pascal Blanche, Alexis Ziritt, Adam Burke, Maarten Donders, Burney, Justin Mohlman, Andrei Bouzikov, Joel Abad, Simon Berndt, Gorgeous George, Jason Cruz, Brian Profilio, Forest Cavacco, and Tim Granda.
The Planet of Doom channels spirit of Heavy Metal movie.

Heavy Metal Magazine
Now THIS is an animated movie I'll take my kids to! Fuck Frozen, it's all about The Planet of Doom!

Cvltnation
Breathtakingly ambitious. A generational work.

The Obelisk
So damn epic… shot right to the top pf my most hotly anticipated films.

Dread Central