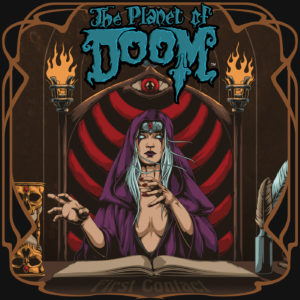 Ripple Music to Release 'First Contact: Music from the Original Soundtrack 'The Planet of Doom' June 22
In the Spirit of R-rated Animated Films Like "Heavy Metal" and "American Pop", Comes an EPIC Feature-Length Fantasy / Sci-Fi Tale Soundtracked by Underground Metal Artists from Across the Globe
In the spirit of R-rated animated films like Heavy Metal and the works of Ralph Bakshi, Riff Lodge Animation (the studio behind the mind-blowing music video for Conan's "Throne of Fire") are creating an EPIC feature-length fantasy/science-fiction film titled "The Planet of Doom", created entirely by both artists and bands within the doom/stoner/psych/metal genres. Set for release in 2020 and subtitled as "An Animated Tale of Metal and Art", "The Planet of Doom" features a worldwide assembly of 17 respected artists and animators and 18 revered bands and promises to present a colossal compendium of underground culture and this generation's ode to counterculture. On June 22, Ripple Music will release First Contact: Music From The Original Soundtrack 'The Planet of Doom', a teaser EP including four of the film's featured groups: Mos Generator (USA), Messa (Italy), Vokonis (Sweden) and Slomatics (Ireland).
Written by art director/producer David Paul Seymour and adapted into a screenplay by animator/director Tim Granda, "The Planet of Doom" is one continuous tale broken up into 15 chapters, each interpreted by a different artist and band team-up. The film contains no spoken dialogue, opting instead to tell the tale via the lyrics of the soundtrack's original music. In the film, the titular hero, Halvar The Brave, seeks vengeance aboard a witch-born chopper, journeying across a psychedelic landscape on a quest to defeat the deadly beast Mördvél for the slaying of his beloved bride.
""The Planet of Doom" is a tribute to heavy music and the art that accompanies that type of music." says Seymour. "With this film, we're seeking to encapsulate the music and art community that Tim and I are a proud part of with one epic body of work. We are also naturally bringing in all sorts of fringe countercultures who've attached to this same community: bikers, skateboarders, comic book, and sci-fi fantasy fans. It's a really vibrant and diversified community, and we've certainly brought in the right ambassadors to represent it properly."
"One of the things we loved about Heavy Metal was the format. We really dug how the style of art changed from one sequence to the next, as if you were reading an issue of their magazine," adds Granda. "But rather than use a plot device like the "Loc-Nar" to tie a series of unrelated segments together, we wanted to stick to one story that's split up into a series of chapters, with each being told by a different band and artist."
The complete list of artists and bands contributing to "The Planet of Doom" reads like a who's who of the modern day underground scene. Contributing artists include David Paul Seymour, Skinner, Pascal Blanche, Ian Bederman, Maarten Donders, Adam Burke, Alexis Ziritt, Dave Olteanu, Burney, Justin Mohlman, Mikey McKennedy, Matt Stikker, Jason Cruz, Simon Berndt, Gorgeous George, Brian Profilio, Tim Granda, and Forrest Cavacco.
Bands and musicians that will appear on the film's soundtrack include Cirith Ungol, Wo Fat, Ufomammut, Mos Generator, Slomatics, Elephant Tree, Vokonis, Phillip Cope (Kylesa), Slow Season, Messa, Summoner, Space Witch, Destroyer of Light, Mother Crone, and Tim Granda.
First Contact: Music From The Original Soundtrack 'The Planet of Doom' track listing:
1.) Mos Generator "Sword of the Sea'
2.) Messa "Serpent Libido"
3.) Vokonis "Runa"
4.) Slomatics "Jagaer"
Pre-order First Contact: Music From The Original Soundtrack 'The Planet of Doom' at this location.
David Paul Seymour and Tim Granda are available to speak with interested media. To chat with the artists and/or request a review copy of First Contact: Music From The Original Soundtrack 'The Planet of Doom', simply contact Carl Schultz at ACTION! PR.
 "The Planet of Doom" channels spirit of "Heavy Metal" movie." – Heavy Metal Magazine
   "Now THIS is an animated movie I'll take my kids to! Fuck Frozen, it's all about "The Planet of Doom"!" – Cvltnation
   "I could gush and go on and on about the admirable undertaking that is bringing so many artists and bands together…It's a massive, comprehensive project." – The Obelisk
   "The Planet of Doom"…looks so damn epic and manly that it just shot right to the top of the list of my most hotly anticipated animated films." – Dread Central