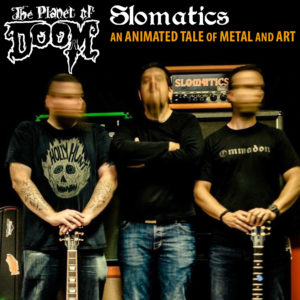 Slomatics
Formed in Belfast late 2004, Slomatics (a band Conan cite's as an influence) aim to reduce riffs to a primal state of heaviness, to produce music that implodes under it's own weight, creates a joyous and euphoric state of wellbeing which can only be obtained with a slew of vintage amplifiers, fuzz pedals, analog synths, and an alarming array of percussion instruments.
This has endured through UK tours, gigs in Europe, four albums and a mountain of split/vinyl/cassette releases. 2012's "A Hocht" was released to widespread critical acclaim, gaining support from around the world which was capped off with a deafening performance at the Incubate Festival in Tilburg.
September 2016 will see the  saw the release the bands 5th album via Black Bow Records.
← Back
Next →